With over 10 years of trial experience Cody brings a vast array of criminal law skills to the table, and he will use those skills to provide you the representation you need.
---
The best criminal defense lawyer in your area
About Cody
Cody received his Bachelor of Science in Criminal Justice from the University of Nebraska, with Magna Cum Laude honors in 2007. While at UNL Cody clerked for the Criminal Division of the Nebraska Attorney General's Office. Cody received his J.D. from Creighton University School of Law in 2010. At Creighton, Cody received the CALI Excellence for the Future Award and was a member of two National Moot Court Teams. He perfected his grasp of the legal administrative functions by working as a law clerk for the Pottawattamie County Attorney's Office, the Air Force JAG Office at Offutt Air Force Base, and the Nebraska Attorney's Office.
Cody's legal career began with the Nebraska Attorney's Office in 2010. As a member of the Felony DUI Unit serving at the Nebraska Attorney's Office, Cody specialized in Felony DUI, Misdemeanor and Felony Motor Vehicle Homicide, Felony Driving During Revocation, DUI Serious Bodily Injury, Leaving the Scene of Personal Injury Accidents, DUI Drugs and all other matters involving intoxicated drivers.
Cody has extensive experience with violent crimes including murder, manslaughter, assault, robbery, burglary, and weapons. Cody has also handled hundreds of cases involving the possession and distribution of controlled substances.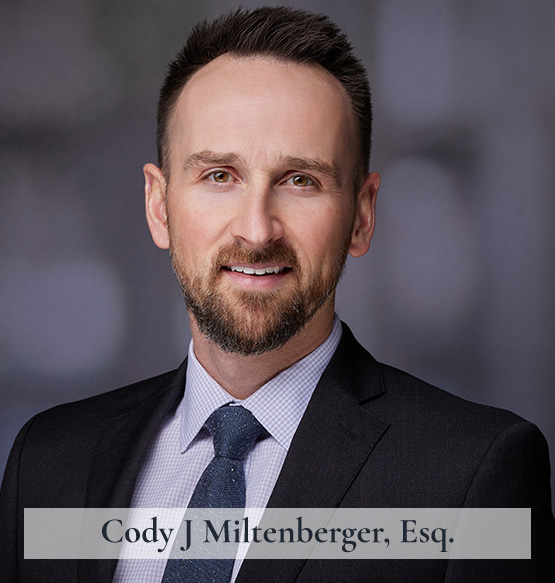 Cody has jury trial experience on a wide range of issues including DUIs, Drugs, DUI Serious Bodily Injury, Leaving the Scene of a Personal Injury Accident, Burglary, Robbery, Possession of a Weapon by Prohibited Persons, Assaults, Motor Vehicle Homicides, Manslaughters and First Degree Murders.